Our Tilt and Turn Windows are suitable for both commercial and domestic situations; C70 Tilt & Turn windows are the ideal solution for ventilation and cleaning purposes.
Designed to be integrated with all our Window and Door sections and giving all the benefits and colour options, our Kommerling Tilt & Turn PVC Windows are designed to be maintenance free.
Just a little oil on the moving parts every few years should see your investment last well over 10 years.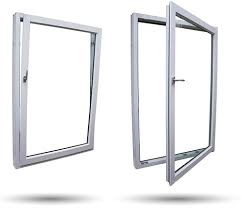 Improved Thermal Efficiencies resulting in reduced home heating costs
Tilt Option allows for safe and secure ventilation
Turn Option provides ease for cleaning from inside
Turn Options Allows for Fire Escape
Improved Noise Reduction
Sleek Modern Design
Reduces Draughts
Steel reinforced for extra strength
Multiple colours and designs to choose from
Designed using advanced German engineering
Double and Triple glazing available
10 year guarantee
Low Maintenance
Made from Environmentally Friendly PVC material
Lead Free, better for you and the environment
NSAI certified
All Windows made supporting jobs in Republic of Ireland
The CE marking is the manufacturer's declaration that the product meets the requirements of the applicable EC directives.